Patanjali Garment Store
Patanjali Garment Store: Patanjali of Yoga Guru Baba Ramdev finally gave a knock in the clothing market. Baba Ramdev opened the first store of Patanjali Paridhan store in the NSP, Pitampura delhi of Delhi on Monday on the occasion of Dhanteras . During this time, he has worked with Jeans and T-Shirts From the launch of Sportswear. Patanjali's clothes will get 25% discount on Ramdev There are women's clothes in the Faith brand, then there are men's clothes in the rituals brand. Similarly, there is the availability of sportswear in Live Fit brand. About 35 hundred varites will be available in the store. Baba Ramdev appealed to people to join Swadeshi campaign on the occasion of inauguration of Patanjali Garment, which has a range of fabrics under a roof. Baba Ramdev posted a photo by tweeting, in which he stood for two T-shirts in his hand. In this tweet, he said that the price of a jeans and two T-shirt is seven thousand, which will be available only in the festive season for Rs.1100. Baba Ramdev appealed to people to join the indigenous campaign by tweeting and contribute to the collapse of the multinational companies.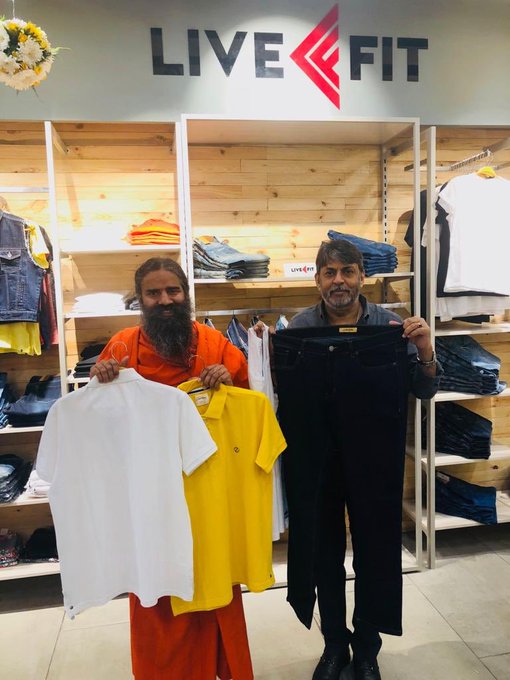 Acharyakulam has been inaugurated In
September, the new campus of Baba Ramdev's Gurukul Acharyakulam has been inaugurated at Haridwar in Uttarakhand. The inauguration was done by BJP President Amit Shah himself. Baba Ramdev's Acharyakulam was inaugurated by Narendra Modi in the year 2013 and since then Acharyakulam has started in discussion since it is also called today's modern Gurukul where modern education along with Vedas Education and Sanskrit are also taught. Let us know what is the process of admission in today's modern Gurukul Acharyakulam?
What is the procedure
for admission in Acharyakulam Examinations are also conducted in the whole country for admission in Acharyakulam. The examination is kept on the second Sunday of December every year. This examination consists of questions of general knowledge, English, Reasoning and Current Affairs. It is a test in the entire city centers across the country. A total of 500 children are selected in the first round and after that, all children are kept in Haridwar Acharyakul with their parents for 7 days.
By 7 days, Swamy Ramdev himself sees one child and tests his capacity and on the basis of this, 160 children are considered to be eligible for admission in Acharyakulam. 160 children have 80 boys and 80 girls.
Which class admission is
Acharyakulam is admitted only in the fifth grade and then he is taught till the 12th standard. On April 1, the child whose age is less than 9 years and not more than 11 years, can apply for admission in the fifth grade. The first batch of Acharyakulam which started in 2013 has now reached 11th, i.e. the time the children were enrolled in the fifth year, they will reach 12th next year.
---